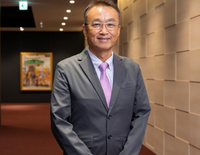 Scopus Paper Info
Paper Count:
0

Citation Count:

0

h-index:

0

Citation count denotes the number of citations in papers published for a particular year.
Affiliation
Faculty of International Research and Education, School of International Liberal Studies
Profile
Graduate from Political Science Division (SPE), Waseda University, and Sciences-Po. de Paris, in 1989, joined OECF (JICA), pursued graduate programs at Yale University (M.A., International Relations), funded by World Bank Graduate Scholarship and Rotary Foundation, and Cornell University (M.Sc. Ph.D., Regional Science), funded by FASID, and in 1996 joined the World Bank through Young Professional Programs then became economist (Middle East and Africa Region). Joined academia as professor at International University of Japan, Meijigakuin University (International Studies), and since 2004 professor at Waseda University (SILS). In 2013 obtained JD from University of Tsukuba.
Concurrent Post
Faculty of International Research and Education Graduate School of Asia Pacific Studies

Affiliated organization Global Education Center
Education
2013.04

-

2016.03

Law School of University of Tsukuba Graduate School of Business Sciences Law School

1996.08

-

2000.05

Cornell University Graduate School Graduate Program of Regional Science / Regional Economics

1991.08

-

1993.05

Yale University Graduate School Graduate Program of International Relations

1984.04

-

1989.03

Waseda University School of Political Science and Economics Division of Political Sciene

1985.09

-

1986.06

Institut d'Etudes Politiques de Paris(Sciences-Po.)
Degree
2000.05 Cornell University(The United States of America) Ph.D.

2016.03 University of Tsukuba J.D.

1998.05 Cornell University(The United States of America) MSc.

1993.05 Yale University(The United States of America) MA
Research Experience
2020.09

-

Now

Asian Development Bank Public Finance and Law Expert

2020.04

-

Now

早稲田大学 地域・地域間研究機構 国際平和戦略研究所 所長

1994.06

-

2000.08

The World Bank Economist

1989.04

-

1994.06

Overseas Economic Cooperation Fund Officer

2017.09

-

Now

International Christian University Part-Time Lecturer

2010.09

-

Now

Japan Economic Research Institute Board Member (part time)

2004.04

-

Now

Waseda University Faculty of International Research and Education Associate Professor.Professor(2010-)

2018.09

-

2018.12

Venice International University Visiting Professor

2002.04

-

2004.03

Meijigakuin University Department of International Studies Lecturer

2000.09

-

2002.03

International University of Japan Graduate School of International Relations Assistant Professor
Professional Memberships
 

 

 

Franco-Japanese Association of Economic Science

 

 

 

Japan Association for Human Security Sudies (JAHSS)

 

 

 

Association for Asian Studies (AAA)

 

 

 

Japan Association of Political Economy

 

 

 

Japan Law and Economics Association

 

 

 

Japan Association for Asian Studies

 

 

 

Japan Society for International Development (JASID)

 

 

 

Society for Benefit-Cost Analysis

 

 

 

East Asia Economic Association

 

 

 

Asian Law and Economics Association (AsLEA)
Research Areas
Human geography Spatial Analysis, Spatial Econometrics, GIS

Gender studies Religion, Law, and Gender

Economic policy Development Economics

International relations Belt and Road Initiative, Aid Competition, Aid Diplomacy, Peacebuilding
Research Interests
Economic Development (Poverty and Social Development), Public Economics, Law and Economics, Peace Studies; Area Studies (Japan, Southeast Asia, South Asia, Africa); International Sociology (gender, religion, law and development)

Belt and Road Initiative (BRI)
Papers
Nexus of Military and Economic Cooperation: Japanese Challenges in Afghanistan and Iraq

Takeshi Daimon-Sato

Journal of US-China Public Administration 18 ( 1 ) 1 - 15 2021.02 [Refereed]

Sino-Japanese Competition over the "aid market" in ASEAN : Political Tensions and Consequences

Takeshi Daimon-Sato

Foreign Policy Review 13 58 - 73 2021.02 [Refereed]

Qu'est-ce que c'etait le "pritemps arabe"? Une perspective tunisienne

Takeshi Daimon-Sato

Bulletin 33 29 - 46 2021.05 [Refereed]

Sino-Japanese Competition over the Belt and Road Initiative and Aid Competition: Overcoming Post-Pandemic Crisis

Takeshi Sato-Daimon

Waseda Asia Review 23 16 - 21 2021.02 [Invited]

The Historical Background and Role of Japan's Strengthening of Support for the Rule of Law

Takeshi Daimon-Sato

Journal of US-China Public Administration 17 ( 6 ) 265 - 274 2020.11 [Refereed]

Japan and China in Competition or Cooperation? Perspectives for Africa

Takeshi Daimon-Sato

Journal of Inter-Regional Studies: Regional and Global Perspectives 3 14 - 25 2020.03 [Refereed]

Nexus of Development Economics and Peacebuilding: Comparative Analysis of Prof Sen and Prof Nishikawa

Takeshi Daimon-Sato

Bulletin 32 73 - 79 2020.03 [Refereed]

Quantitative Analysis of Gender Inequality in Muslim Countries

Takeshi Daimon-Sato

Waseda Global Forum 16 1 - 30 2020.03 [Refereed]

Development Policy Lending and Its Effectiveness – Japanese Experience

Takeshi Daimon

Association for Asian Studies 2019.07

Law and Gender Inequality in Muslim Countries: Case of Jordan

Takeshi Daimon

Asian Law and Economics Conference 2019.06

Empirical Study on BOP Business: Case of Indian Water Business

Takeshi Daimon

Project Study 10 ( 10 ) 17 - 28 2015.03 [Refereed]

Measuring the Intangible Risk of Conflict : Policy Implications for Development Assistance

Takeshi Daimon

Waseda Global Forum 11 ( 11 ) 3 - 25 2015.03 [Refereed]

An Essay off Public Management in Economic Development: Case of Rural Water Supply Project in Nigeria

Takeshi Daimon

Project Study 4 ( 4 ) 1 - 12 2009.03 [Refereed]

Environmental Problem and Japan

Takeshi Daimon

Project Study 4 ( 4 ) 141 - 160 2009.03 [Invited]

Fiscal effects in peace-building: fungibility re-considered

Takeshi Daimon

Waseda Global Forum 5 ( 5 ) 9 - 14 2009.03 [Refereed]

Prof Sen's Contribution to Peace Studies: From Social Choice Perspectives

Takeshi Daimon

Asian Economy 50 ( 2 ) 62 - 75 2009.02 [Refereed]

Poverty reduction through employment creation: case of Nicaragua Social Fund

Takeshi Daimon

Waseda Global Forum 3 ( 3 ) 7 - 15 2007.03 [Refereed]

Study on Aid Modality for Peace-building: Possibilities for Yen Loan for Afghanistan

Takeshi Daimon

Project Study ( 2 ) 13 - 25 2007.03 [Refereed]

How Globalization Localizes International Public Interest: A Cross-Country Evidence for Millenium Development Goals

Takeshi Daimon

Waseda Global Forum ( 1 ) 15 - 23 2005.03 [Refereed]

Decentralization and Economic Development Policy: Case of Indonesia

Takeshi Daimon

Meijigakuin University International Studies Department Center Annal 6 ( 6 ) 103 - 107 2003.12

Feasibility of Poverty Goals (Special Report for MDGs for 2015)

Takeshi Daimon

Ajiken World Trend 9 ( 4 ) 10 - 13 2003.04 [Invited]

Nation-building of Post-conflict Country and Role of External Assitance: Perspective for Reconstruction of Afghanistan

Takeshi Daimon

International Studies 23 ( 23 ) 51 - 65 2003.03 [Refereed]

The Spatial Dimension of Welfare and Poverty : Lessons from a Regional Targeting Program in Indonesia

Takeshi Daimon

Economics & Management Series 2001 2 - 29 2001.08 [Refereed]

World Development Report: Poverty Alleviation and Its Approach

Takeshi Daimon

Ajiken World Trend 6 ( 12 ) 32 - 35 2000.12 [Invited]

Essays on the Spatial Economics of Growth and Poverty: Theory and Policies for Southeast Asia

Takeshi Daimon

Cornell University 2000.01
Books and Other Publications
Competition or Cooperation: China and Japan in International Aid, Investment and Trade

Takeshi Daimon( Part: Sole author)

Lexington 2021.12

All Japan for the World - New Form of Peace-building, Humanitarian Assistance, and Disaster Relief

Yuji Uesugi, e, al. ed( Part: Contributor)

Naigai Shuppan 2016.03 ISBN: 9784905285571

Identity and Violence-Illusion of Destiny

Amartya Sen, T, slated by, Takeshi Daimo( Part: Joint translator)

Keiso Shobo 2011.07 ISBN: 9784326154166

New Frontiers in International Relations

Takehiko Yamamoto ed( Part: Contributor)

Sebundo 2010.04 ISBN: 9784792332761

Development and Peace: Support for Fragile States

Juichi Inada ed( Part: Contributor)

Yuhikaku 2009.03 ISBN: 9784641183803

Afghanistan and Surrounding Countries: 6 Years of Experience and Perspectives for Reconstruction

Hitoshi Suzuki ed( Part: Contributor)

IDE 2008.04 ISBN: 9784258290116

Poverty Reduction Strategy Reconsiered: Possiblity of Employment Generation

Tatsushi Yamagata ed( Part: Contributor)

Iwanami Shoten 2008.03 ISBN: 9784000099738

Peace-building: New Strategy for Development Assistance

Takeshi Daimon( Part: Sole author)

Keisoshobo 2007.04

Conflict and Economic Reconstruction: Response of International Community for Peacebuilding

Juichi Inada ed( Part: Contributor)

Yuhikaku 2004.05 ISBN: 4641162085

The Day When the Nomadism Changes Mongolian Economy

Yuki Konagaya ed

Shuppanbunkasha 2002.11 ISBN: 4883382788
Awards
Excellent Poster Presentation Award

2021.06 Japan Society for International Development What was Arab Spring? 10 Years After Tunisian Revolution

Winner: Takeshi Daimon-Sato
Research Projects
A Study on Spatial Correlation of "Cross-Border Migration" within Greater Mekong Sub-region and Regional Safety Net Plan

Japan Society for the Promotion of Science Grants-in-Aid for Scientific Research Grant-in-Aid for Scientific Research (B)

Project Year :

2021.04

-

2025.03

Takeshi Daimon-Sato

Competition and Possibilities for Cooperation Between Japan and China Over "One Belt" (Maritime Silk Road)

Japan Society for the Promotion of Science Grants-in-Aid for Scientific Research Fund for the Promotion of Joint International Research (Fostering Joint International Research (B))

Project Year :

2019.10

-

2024.03

Takeshi Daimon

Role of Gender Minorities in Economic Development-Comparative Studies of Two Major Religions in Southeast Asia

Japan Society for the Promotion of Science Grants-in-Aid for Scientific Research Grant-in-Aid for Challenging Research (Exploratory)

Project Year :

2020.07

-

2023.03

GIS Application for Trans-Border Migration in Mekong Sub-Region, Spatial Correlation and Regional Safety-Net Initiatives

Mitsubishi Foundation Human-Social Science Research Fund

Project Year :

2021.10

-

2022.09

Takeshi Daimon-Sato

Study on Poverty Reduction through Employment Generation

Japan Society for the Promotion of Science Grants-in-Aid for Scientific Research Grant-in-Aid for Scientific Research (C)

Project Year :

2006

-

2007

DAIMON Takeshi

Tax Competition within ASEAN Member Countries

Nomura Fund Nomura Fund

Project Year :

2003.04

-

2004.03

地方分権政策の貧困層に与える影響-インドネシアの事例

日本学術振興会 科学研究費助成事業 若手研究(B)

Project Year :

2001

-

2002

大門 毅
Presentations
Preventive Deplomacy and International Development Cooperation

Takeshi Daimon-Sato [Invited]

ASEAN Regional Forum Workshop on Preventive Diplomacy for Sustaining Peace

Presentation date: 2022.06

In search of the post-pandemic post-capitalistic paradigm: scope and limitation of "regulation" school

La societe Franco-Japonaise des Sciences Economiques

Presentation date: 2021.12

Gender and Sexual Diversity and Understanding Development: A Direction for Redesigning Post-Pandemic Development Program

Japan Society for International Development

Presentation date: 2021.11

Free and Open Indo-Pacific: Aftermath of Pandemic 2020-2021

[Invited]

Japan-Korea-Taiwan Conference on China's New Diplomacy

Presentation date: 2021.11

Sino-Japanese Relations from Indian Perspective

Takeshi Daimon-Sato

Indian Council of World Affairs and Centre for Public Policy Research (online)

Presentation date: 2021.08

How Japan Has Survived the Covid19 Pandemic Without Restricting Individual Freedom of Mobility and Disclosing Health Information? The Effectiveness of Legal Restrictions on Individual Freedom Upon the Pandemic Control.

Takeshi Daimon-Sato [Invited]

Asian Association for Law Professors (online)

Presentation date: 2021.07

In search of the post-pandemic post-capitalistic paradigm: implications of China-Japan rivalry for African economy.

Takeshi Daimon-Sato [Invited]

Japan Society for Afrasian Studies (online)

Presentation date: 2021.07

Development Resilience and SDGs in Pandemic Era: Human Security for "No One Left Behind"

Takeshi Daimon-Sato, Yuichi Sekiya, Masato Noda

Japan Association for International Development (online)

Presentation date: 2021.06

What was "Arab Spring"? 10 Years After Tunisian Revolution

Takeshi Daimon-Sato

Japan Society for International Development

Presentation date: 2021.06

Asia-Pacific Developments and China-Japan Relations

Takeshi Daimon-Sato [Invited]

Shanghai Institute for International Studies (online)

Presentation date: 2021.06

Ten Years After Arab Spring: Case of Tunisia

Takeshi Daimon-Sato [Invited]

Japan Association of Political Economy (online)

Presentation date: 2021.03

Measuring the Impact of Gender Empowerment from a Rural Road Improvement Program

Takeshi Daimon-Sato

Society for Benefit-Cost Analysis 2021 Conference (online)

Presentation date: 2021.02

Will Lending Type Assistance Worsen "Debt Trap"? Sino-Japanese Aid Competition for Africa and Quantitative Analysis of Cooperation

Takeshi Daimon-Sato [Invited]

La societe Franco-Japonaise des Sciences Economiques (online)

Presentation date: 2020.12

Sino-Japanese "aid competition" in Southeast Asia and Beyond: Case of High Speed Rail

Takeshi Daimon-Sato

International Conference on Business and Commerce (online)

Presentation date: 2020.11

China-Japan Competition or Possibilities for Cooperation? Debates On Belt and Road Initiative and Free and Open Indo-Pacific Initiative

Takeshi Daimon-Sato

AAS-in-Asia 2020 (online)

Presentation date: 2020.09

Is Lending ODA Worsening "Debt Trap" in Developing Countrie?

Takeshi Daimon-Sato

Japan Association for International Development (online)

Presentation date: 2020.06

China-Japan Policy Cooperation Under COVID-19: Urgent Proposals

Japan Association for Asian Studies (online)

Presentation date: 2020.06

Law and Gender Inequality in Muslim Countries: A Case Study of Jordan

Takeshi Daimon

Asia-Pacific Conference on Engineering and Applied Science

Presentation date: 2019.12

Evaluation and Monitoring Public Infrastructure : Japanese Experience

Takeshi Daimon [Invited]

Seminar on Public Infrastructure (Seoul)

Presentation date: 2019.11

Spatial Dimension of Conflict: Case of Tunisia

Takeshi Daimon

JASID-JAHSS JASID-JAHSS

Presentation date: 2019.11

PKU-Waseda Research Workshop

Takeshi Daimon [Invited]

PKU-Waseda University Public Symposium PKU-Waseda

Presentation date: 2019.11

Implications for Peacbuding by Prof. Nishikawa's Approach: Comparative Analysis with Prof. Amartya Sen

Takeshi Ddaimon [Invited]

Economic Association of Franco-Japon

Presentation date: 2019.10

Development Policy Lending and Its Effectiveness – Japanese Experience

Takeshi Daimon [Invited]

Association for Asian Studies in Bangkok (Bangkok) Association for Asian Studies

Presentation date: 2019.07
Overseas Activities
開発経済における民間企業の役割(インドの事例)

2015.09

-

2017.08

インド デリー大学

南アジア経済圏の形成とインドの役割

2010.04

-

2010.09

インド デリー大学
Committee Memberships
2021.08

-

Now

Ministry of Foreign Affairs (Japan) Chief Evaluation Expert / Malawi Country Evaluation

2010.09

-

Now

Japan Economic Research Institute Board Member

2010.06

-

Now

Ministry of Finance (Japan) Seminar Lecturer

2005.04

-

2006.03

JETRO - Institute of Development Economies Research Committee Member - Poverty Alleviation Through Labor

2005.04

-

2006.03

Ministry of Foreign Affairs (Japan) Committee Member: ODA Evaluation of Poverty Alleviation Programs